Blessing M-100
Marching Mellophone

Blessing M-100

Rating:
Technical Data
M-100 Marching Mellophone outfit in key of F. Clear epoxy lacquered finish, .468" bore, 10-1/2" bell, and Monel® pistons are standard equipment. Complete with Blessing No. 5 Mellophone mouthpiece and French horn mouthpiece adapter. Instrument supplied in wood shell case (C-100). Replacement French horn mouthpiece adapters and optional Eb slide for M-100 available at additional cost.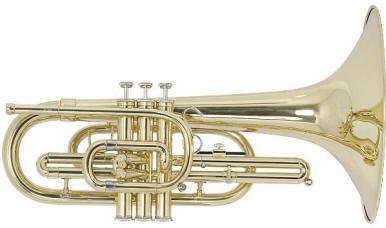 Opinions
The Blessing M-100 is an example of the "cornet-wrap" marching mellophone design that has become the norm in modern mellophone design. It has a very large bell and very compact wrap which gives the horn a somewhat unbalanced visual appearance which is substantiated when you pick up the instrument to play. Like many modern mellos, it is quite bell heavy and doesn't have much room for the left hand to squeeze between the valve casing and the lead pipe.

I got this horn from jazz trumpeter John McNeil who bought it to use as sort of a super-flugel, but subsequently went back to playing only trumpet (as far as I know). It's never been marched with and was in practically new condition when I got it. He had also had a first valve trigger installed, but I found it very awkward to use.

Now the first thing I do with a new (to me) instrument is to give the bell a good thump on the rim and then listen to see what kind of "bong" I get out of it. The Blessing bell makes a surprisingly deep and resonant sound with lots of overtones. The metal is not overly thin and the horn is solidly made. The valves move well and smoothly, but I don't get the impression that they're made to the tightest of tolerances.

By far the biggest surprise, for me, with this horn was the mouthpiece that came with it. Most marching mellos come with some variant of the 6V or even a trumpet mouthpiece (?!?) in the box. This horn comes with the Blessing 5, which, I found out, is a based on the Denis Wick 5 tenor (alto) horn mouthpiece! I found it to be a good size for switching back and forth to french horn as the inner diameter is only about 17.5mm.

How does it play? Well, this horn has a very interesting sound that is not particularly mello-like. It is very lean and compact and easy to put a little edge on, especially with the intended mouthpiece. That said, it's also a bit on the thin side and, so far, doesn't record particularly well. I contacted Blessing and was told that the design objective was more of an F trumpet kind of sound. I applaud them on their choice of mouthpiece for an instrument of this design and key. Unfortunately, I think this horn sounds better behind the bell than in front of it. In fact, I can imagine a section of them being rather shrill at higher volumes.

The intonation is another story altogether. In preparation for this review, I pulled the horn out and played it with several different mouthpieces and contrasted with the Yamaha 203 and my French Horn (Paxman model 40 descant horn). The M-100 has decent intonation for the most part, with the D, E and Eb in the staff all being very, very low, the A above the staff being (as is typical in my experience) a tad bit high and the F in the staff just being plain, well, weird (It should be in tune, but as soon as someone else plays, you realize it isn't). This wouldn't be that big a deal except those three notes are quite heavily used and it makes playing the horn a pretty stressful proposition. With the IYM mouthpiece, the intonation goes completely out the window. I'm not sure why but this horn doesn't like that mouthpiece. With a Yamaha 37C4 tenor horn mouthpiece, the tone got even thinner and harder. I also tried a couple of my custom Marcinkiewicz Horn mouthpieces with an adaptor, but they all made a less satisfying sound than the Blessing mouthpiece and the intonation didn't improve at all. Overall, I found the horn to be on the low side, so I couldn't even bring it up enough to get those notes in tune and lip everything else down a little. The horn is easy to play however, notes slot well and all the registers speak quickly.

The Blessing M-100 a relatively well made horn that suffers from some serious intonation issues and a less than characteristic sound. It does play well and, with the intended mouthpiece can create a unique sound of its own. I'd think you'd need to have the whole section on them for that to work, though, and that would compound the intonation issues. With all the other options out there today (Yamaha, King, Dynasty, Jupiter), this horn may already be history.
-Mark Taylor (email)
Where to Buy
About Mark Taylor