Originally published in 1994
During his illustrious career, Don Elliott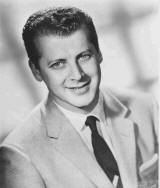 performed jazz as a vocal musician, vibraphonist, trombonist, trumpeter, flugelhornist and percussionist. He pioneered the art of multi-track recording, composed countless prize-winning advertising jingles, wrote music for hit Broadway shows, prepared music scores for motion pictures, and built a thriving production company. Incidentally, he was also the greatest mellophonist who ever lived.
The Early Years
Don Elliott was born Don "Helfman" in Somerville, New Jersey on October 21,1926.1 The son of a silent film theater organist and vaudevillian pianist, Don became a music student of his father at the age of four. Don's father, Albert, was somewhat of a sensation in Somerville. A gifted organist, he took pride in his ability to improvise musical backgrounds for silent films at the local movie palaces.
Don's first instrument was the piano accordion, a gift from his father. Albert realized the potential of his son and frequently informed Don's mother, Nettie, that Don would be famous someday. Tragically, Dan's father died of a heart attack in 1933 at the age of 36.
Don continued to use his natural music abilities throughout his early childhood by performing for various clubs and charity groups. By age 11, Don was a seasoned performer. Within a year he accepted his first professional "gig" playing trumpet at a New Year's Eve party.2
While in junior high, Nettie saw her son win his first award for a performance of Bei Mir Bist Du Schoen on the accordion. Schoolmate Ed Wold in accompanied Don during this auspicious performance and still remembers the performance well:"
"I accompanied him on that occasion and remember an ovation equal to those at Carnegie Hall."3
Along with his incredible ability to discern pitches, Don was very coordinated and technically proficient. "His tricks on the piano put Chico Marx to shame," reflected Ed Woldin, "Watching Don execute difficult passages, one had the feeling there was a small brain In each finger." Don also had other talents that lent themselves to music. Dan's brother Herb remembers:
Don could always do complex things. You could speak to him and he could take your sentence and immediately repeat It backwards. And spell every word of it backwards. When we were kids, we were amazed. He had perfect pitch. When a doorbell rang he would say "E-flat." When someone would clink a glass, he'd say "B-flat." Everything was music to him.4
Don nurtured his natural gift of learning the intricacies of instruments quickly. Schoolmates marveled one day as Don, still in junior high, picked up a clarinet for the first time. After a few moments of familiarizing himself with the fingerings, he promptly began a smooth "swing" to Artie Shaw's Begin the Beguine--without squeaks or wrong notes!5
Dan's music education benefited after the arrival of a new citizen to Somerville. Trumpeter Claude "Gus" Shappelle moved to town to fulfill the role of band director. Realizing Dan's potential, he helped Don refine his talents on trumpet. It was at this time that Don first learned the careful craft of inventing the natural melodic lines that were to become one of his better-known trademarks as a soloist. Shappelle's efforts helped unlock Dan's improvisational abilities, and created a lifelong friendship.6
Don graduated from high school in 1944. From there he immediately enrolled in the Julliard School of Music. Lou Teicher was his instructor in theory and harmony. Unfortunately, Dan's stint at Julliard was short-lived as war raged overseas.
In March 1945, Don served on the west coast in the Air Corps as a tail gunner on a B-29 Bomber. However, his musical talent was recognized one evening when he played trumpet at one of the Noncommissioned Officer's Clubs. Thanks to a jazz loving sergeant, Don continued his military career as a trumpeter.7
The army provided Don an opportunity to play a different instrument. Don met a fellow military musician that had two sets of vibraphones. He persuaded the soldier to trade one set of vibraphones for his spare trumpet.8
Following his honorable discharge in 1947, Don travelled with his vibraphone to the University of Miami. While there, he took courses in harmony and theory, as well as archery classes and deep-sea diving instruction. Following a brief stint at Miami, Don began the Schillinger course in composition and scoring.9
In 1948, Don became a singer in the vocal quartet Hi, Lo, Jack and the Dame, a group also known as the The Hi Lo's. This association lasted almost two years and provided Don an opportunity to perform on radio and the quickly developing world of television. The Hi Lo's initiated a very successful jingle campaign for Dentyne Chewing Gum, one of the first ad campaigns of its kind. There's no doubt that Don was quick to recognize the financial possibilities of preparing music for commercials.10
The Big Break
Don resumed playing his trumpet as a member of the staff band of radio station WMCA in New York City. In a strange twist of fate, Don's neighbor at the time, Ed Fuerst, was responsible for Don's big break.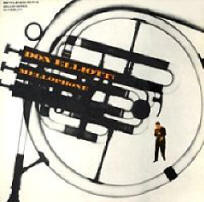 Ed often had pianists over to play at parties he held for local musicians and singers. One night, George Shearing was at the apartment playing. Don was urged to wheel his vibes over for an impromptu "jam session" with Shearing. That evening, George told Don that his present vibraphonist, Margie Hyams was getting married and leaving the band, Subsequently, Don became a vibraphonist with Shearing from July 1950 through February 1961, during the height of Shearing's popularlty.11
Initially frightened with his new job, Don quickly fitted himself into the ensemble. Guitarist Chuck Wayne helped Dan's transition into the ensemble. Don Elliott:
He [Chuck] suggested that I use triplet, three-note phrases, because my playing would swing more. Chuck got me into Ravel, although with George, who played beautiful background lines, everything was Delius.12
The makeup of the Shearing group didn't provide Don an opportunity to play trumpet. Don made up for this by packing his horn to late night jam sessions at the local clubs. Then one evening, everything changed. Don Elliott:
One night I was jamming In Los Angeles when this merchant marine came In with a trumpet and took all the brass solos...This bugged me. So I decided to send home for my mellophone so I'd have an Instrument that nobody else had.13
Incidentally, the merchant marine was a "yet-to-be­ discovered" Chet Baker.
In 1951, Don departed the Shearing group to freelance and "front" his own groups. During this six year period, he became forever associated with the mellophone, even though he performed on mellophone and the vibraphone equally.
The Big Change
There's mystery surrounding the actual circumstances involving the creation of the world's first bell-front mellophone. In an article In the New York World-Telegram and Sun published In March 1960, Don took an opportunity to reveal his concerns about the design of the traditional mellophone, and his actions to change the horn's appearance. Ed Wallace:
In recent years Don felt so distressed...that he studied the mellophone and pinpointed the congenital flaw. The bell does not flare forward like predatory trumpets, but slinks downward and faces backward underneath the player's left arm, in a fit of unrelieved depression. Little wonder at all the other horns peck on it happily; what one sees and hears...is a rehabilitated mellophone. Don went to the Conn musical instrument factory and asked that they make for him a forward-looking mellophone. The bell now looks to the front and carries his jazzed melodies for all the world like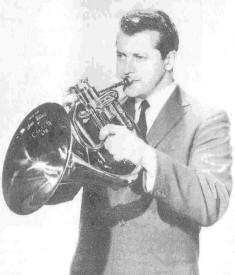 A promotional photograph by the Conn Corporation documents the first of three custom bell-front mellophones produced for Don Elliott. Only one horn remains of the original three.
an acrobatic trombone.14
However, in an article published in the New York Times in 1980, Don
credited Dizzy Gillespie for suggesting the unique configuration of the first bell-front mellophone. In either event, the Conn Corporation of Elkhart, Indiana had produced three identical bell-front mellophones for Don. Don used only Conn brass instruments in his performances--instruments that he often purchased himself. Sadly, two of the original bell-front mellophones were misplaced or stolen.15
Walking with Legends
During the 1950s, Don performed with numerous artists and groups. Before the decade's end, Don had shared the stage with notable jazz musicians such as: Charlie Parker, Dizzy Gillespie, Miles Davis, Terry Gibbs, Kai Winding, Billy Taylor, Zoot Sims, Clifford Brown, Horace Silver, Benny Goodman, Buddy Rich, Teddy Wilson, Lester Young, Coleman Hawkins, Billie Holiday, Louis Bellson, Bill Evans, Paul Desmond, Grady Tate, Richard Davis, Mel Lewis, and Stan Getz. Don's usefulness as a brass player and vibraphonist made him a hot commodity in the jazz realm. Terry Gibbs:
Benny Goodman wanted me to join his band, but I didn't want to break up that winner of a band I had with Don Elliott. I told his agent, Joel Glazier (who was also my agent at the time) that I wasn't going to give up my band! I told him the only way I would go would be if he hired Don Elliott. Benny didn't know what to do with Don and the mellophone because he wasn't used to that sound. He had Don play trumpet, but at least he liked Don Elliott. When I left Benny's group, I went back to my group and I had brought Don back. I didn't want to lose Don.16
Don was soon winning critical acclaim for his musicianship, particularly with the mellophone. From 1953 through 1960, Don won the Miscellaneous Instrumentalist poll in Down Beat magazine for his performances on mellophone.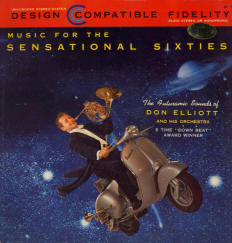 In 1954, while performing as a member of the WPIX studio band, Don became smitten with one of the performers. A date was arranged and Don and Doris were soon a pair. Seven years later, they were married.
Doris was born in Dusseldorf, Germany. She shares the same birthday as Anne Frank. However, unlike Anne, Doris' family managed to escape the anti-Semitic environment of Germany, by departing to Holland. Soon the family moved to Belgium, Mexico, Aruba, and eventually the United States. Along the way, Doris became fluent in several languages.
| | |
| --- | --- |
| | |
| | Don Elliott's appearance on the Steve Allen Show in 1957. Reprinted from a C.G. Conn Corporation publication called CONN-vention Extra published July 15, 195 |
During the 1950s, Doris was busy in television and film. Doris continued performing and soon began arranging appearances for Don. Some of these performances included Arthur Godfrey's Talent Scout, a talent show which offered performance time before a national television audience for its winners. Don was one of the first jazz artists to ever win on the show. Jazz was still not widely accepted in the mainstream, but even those who hated jazz couldn't deny liking Don.
Another one of Don's notable television appearances include a spot on the Steve Allen Show on NBC in 1957. Don even assisted Steve on an album entitled The Fabulous Crystal Joy, which featured the young, unknown songstress.17
Here's another performance of Don Elliott with Paul Desmond:
Comedy
As Don's career blossomed, so did his unique style of performance, which often included comedy. It probably wasn't a conscious effort on Don's part; it was just part of his personality. Terry Gibbs:
His humor came through in his music. He would play some things that would really crack you up…Why not be the same on stage as you are off the stage.
Sometimes the humor in Don's performances would be in the form of Don impersonating Sarah Vaughn in a high falsetto voice, or imitating Liberace with grandiose gestures. Other times Don's humor would manifest itself in his solo work as motifs from popular jazz standards would "pop" up lit unsuspected, but always appropriate moments. Even hearing Don, while playing vibes, offer "bless you" to an embarrassed "sneezer" in the audience was commonplace.
This apparent "lack of reverence" to jazz was sometimes misunderstood. In an article in Down Beat, Don said:
I don't want to be known as the funny jazzman, but I do want to bridge the gap between entertainment and pure art. In the drama, both sides of the mask are important. There are times when a little bit of comedy goes a long way to point up a climax or pace a performance.18
One of Don's early products to feature both his comedic and electronic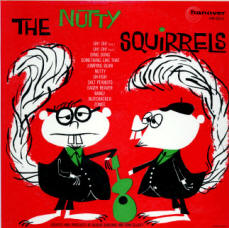 ingenuity was "The Nutty Squirrels." Ironically, this album featuring two likable creatures became a hit and one of the projects for which Don is best remembered. The album, entitled Bird Watching, featured the two squirrels singing "bird-oriented" songs with an orchestra. The songs each refer to birds and included tunes such as Skylark. Bye Bye Blackbird, Yardbird, and others. Don and Sascha Burland provided vocals for the album that were accelerated in a manner first used by "The Chipmunks"--except the Chipmunks never attempted scat singing.
A Thurber Carnival
A unique opportunity presented itself to Don from Burgess Meredith. Meredith had become a fan of Don's after hearing him play on an album. More specifically, Meredith had become a fan of the mellophone-an instrument that he thought should figure prominently in a project he was working on. Elliott remembered it this way:
It wasn't anything I'd written, Buzz [Meredith] had heard an LP record I'd made several years ago with Paul Desmond, Dave Brubeck's saxophonist. It became one of his favorite records and he particularly liked some tracks on which I played mellophone. For some reason he associated the music and the sound I got on the mellophone with Thurber. In fact, when he hears me playing it, he smiles, shakes his head and murmurs, "Oh, that Thurberphone."19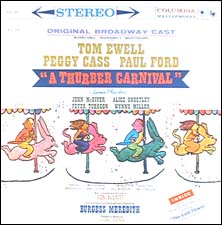 The show, A Thurber Carnival, would be a Broadway show, but not the typical Broadway show. It would have music, but it would also include sketches featuring the work of James Thurber, a noted humorist and author. Music was needed for segues and to set a mood for each of the sketches, but the show offered no plot and no central theme. The show simply comprised of different comedic works from Thurber's writings.
Burgess asked Don to write the music for the show. Don, without any experience with Broadway, eagerly agreed. However, James Thurber was initially less than enthusiastic about jazz music being incorporated into a show featuring his work. Burgess Meredith:
I do remember that Thurber grumbled "What the hell do we need a bunch of jazz musicians for?" Thurber was a marvelous man, but he was caustic!...I remember the delight with which I heard Thurber finally say: "Damn it, that music gets to you!" Thurber grew to love the music. He even gruffly apologized to me for objecting to it at the start.20
Don's approach to scoring incidental music for the show was eventually given the moniker of "Interjected Music." Elliott assembled a quartet of jazz musicians and, understanding jazz musicians, realized their performance needs. Consequently, Don attempted a first for Broadway: improvisation. Improvised solos were devised for the overture and many of the tunes. The result was a show that gave the illusion of improvisation, while adhering to the strict "reproducible" requirements of a Broadway production.
Don's subtle jazz was a perfect vehicle for the humor of Thurber, which had become a fixture on the pages of New Yorker Magazine. Burgess Meredith:
I must say that Don was wonderfully cooperative. It was one of those lucky things that comes along. His music helped change the nature of the presentation in a very gentle way and in a New Yorker style. He was a very delicate performer.21
Under the careful and critical eye of Meredith, the show opened in February 1960 to resounding critical acclaim.
During the countless hours of rehearsals and performances, Don refined his understanding of how music could affect mood. Soon he would be able to apply his accumulated knowledge and revolutionize the advertising industry.
Following A Thurber Carnival, Don composed for another Thurber-based production called The Beast in Me. Don also composed the "Pre-Broadway" production of Erskin Caldwell's Tobacco Road.
The End of an Era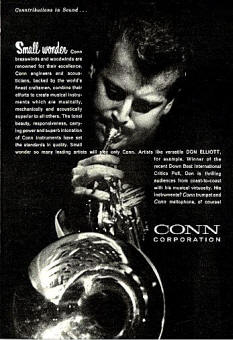 Just as Don was reaching the zenith of his popularity as a jazz artist, the rules of "the game" were changed. A new form of music, haphazardly dubbed "Rock 'n' Roll" was soaking up the attention of the young. The demand for jazz dwindled and soon there were more jazz performers than there were listeners. Jazz was by no means dead, but its glory days seemed to be over. Jazz was becoming a specialty.
Don resented Rock 'n' Roll and described it as "Bad voices and twitching hips," but he accepted its growing popularity. Besides, he was ready to leave the life of a performer and yearned for the peace and quiet found in a small town.22 Don knew when he started with the Shearing group that he was "serving a sentence to the city."23 However, he had purchased a home in Weston, Connecticut during the late fifties, and was now ready to spend more time in this peaceful haven.
Don enjoyed the peace, but quickly continued work in his state-of-the-art recording studio. He was ready to take full advantage of his talents and apply them in a similar manner as he did a decade earlier with the HI Lo's.
A New Venue for Jazz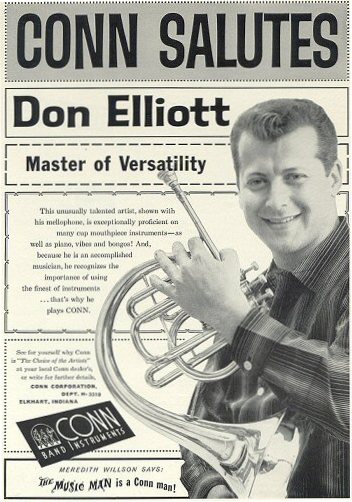 Don's experiences as a performer had given him a keen awareness of both recording techniques and the advertising business. He knew he possessed the talent, and realized he could easily produce the music for commercials. Better yet, he could help bring jazz back into the mainstream. Soon, Don's talent began to payoff as he began to secure accounts with major advertisers. He won critical acclaim for his first work for the Prudential Life Insurance Company that featured The Lion and the Mouse.
The myriad of advertisements that Don Elliott produced music for is staggering. The number has been conservatively estimated to be 6,000.24 Many of the commercials that blanketed the airwaves during the 1960s, 1970s, and 1980s were Don's work, including advertisements for: AT&T, Burger King, Murial Cigars, Kodak, Air France, French's Mustard, Hunt's Tomato Sauce, Revlon, General Motors, Lincoln-Mercury, Arrow Shirts, Windsong Perfume, Contact, Xerox, and countless others. Several Cleo awards resulted from Don's compositions.
Don's keen sense of timing, musicality, and creativity increased his demand on the high powered streets of New York's Madison Avenue, and helped forever change the way products were advertised.
Two new additions to the family arrived in the mid 1960s. Son Dean and Daughter Doriane grew up in the studio and were often used as vocal talent in some of the commercials.
New Challenges
"I have just a compulsion to do everything."25
-Don Elliott
Fittingly, as son as Don began enjoying his success in the advertising business, he began looking elsewhere for new creative challenges. Don continued his work, splitting his time between his studios in Weston and New York City. Don focused his attention toward creating music for films.
Two successes in the mid-1960s resulted from Don's music for documentaries. I Wonder Why won the 1965 Visual Presentation Association's First Place Award. Architecture U.S.A., also produced in 1965, was the winner of the Festival Internationale del Film Award.26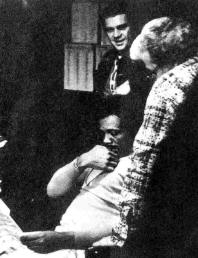 Steve McQueen, Quincy Jones, and Don review the music score the motion picture The Getaway. Don provided the voices and production assistance for the Quincy Jones soundtrack.
Don's interest in creating music for motion pictures intensified and he began a close alliance and friendship with Quincy Jones. Both Don and Quincy seemed to benefit from each other's talents. Don was eager to share some of his electronic ingenuity with Quincy. Quincy, in turn, promoted Don's unique talents on several soundtracks. Don was a perfect musical vehicle to help Quincy manufacture fresh, new sounds. An unlikely pairing, the two collaborated on several successful projects including: In the Heat of the Night, Deadly Affair, Dollars, The Getaway, The Hot Rock, and The Pawnbroker.27 Don also assisted Quincy with his production of Paul Simon's album titled Aztec 2 Step.
Quincy occasionally moved into the Elliott household during projects. Eternally rushed by unrealistic deadlines, Don and Quincy often worked into the wee hours of the morning. Quincy, fighting fatigue, often resorted to "hits" of compressed oxygen to stay awake as the two composed and prepared music.28
Movie soundtracks provided Don an opportunity to experiment with new sounds and completely utilize his dual-careers of jazz musician and commercial musician. Of particular interest was Don's use of the "Don Elliott Voices." Don had pioneered multi-track recording in the 50s and produce entire choirs of sound. A good example of this phenomenon was used in the movie Dollars, when the old standard When You're Smiling was performed by Roberta Flack, backed up by a thick choir of twenty voices created solely by Don.
Dan's voices permeated Quincy's music for films in the late 1960s and 1970s. More recently, Dan's "voices" could be heard on the first cut of Quincy's Back on the Block Compact Disc.
Several soundtracks for made-for-television productions were completed by Don in the early 1970s. One of these included music for NBC's production of Neither Are We Enemies. This 90-minute Hallmark Hall of Fame Easter drama was broadcast on March 13, 1970.29
The Comeback
Despite Don's successes in advertising, television, films, and studio work, his desire to perform prompted visions of a comeback in the mid 1970s. Don had occasionally performed during 1960s and 1970s, but the studio and his family had been the central focus of his life. In a 1974 interview with the Bridgeport Sunday Post, Don left no doubt regarding his intentions: "My ego is in the jazz field. That's where I made it. I got into Madison Avenue, but I want to play again."30
| | |
| --- | --- |
| | |
| | Gerry Mulligan in Don Elliott's Studio circa 1977. |
The comeback was a slow process. Don was still deep-rooted in his studio. Weston was becoming a hub of activity for musicians to record under the kind, but critical eye of Don Elliott. In fact, it wasn't uncommon to see artists such as Jimi Hendrix in the studio making recordings under Don's guidance.31
Despite the heavy work load, Don had become accustomed to the "semi-quiet" life in Weston. However, the trails he "blazed" in advertising had become freeways fuII of eager young writers and musicians. Rock 'n' Roll also began gaining dominance in advertising in a manner similar to its overtaking of jazz in the 1950s. Don was not completely comfortable with being on the performer's "firing line," but he knew his talent as a jazz performer had not diminished. Don Elliott:
"Maybe I'm teasing myself. Maybe I have a fear of coming back and being appraised, although I feel I'm playing better than I ever did."32
Don's comeback consisted of a smattering of public performances. One in 1973 at Jimmy's in New York City, and another performance with Chet Baker in 1976. Don also released an album in 1977, and performed several free concerts at the Atrium at Citicorp in New York City. Other performances included participation in the Kool Jazz Festival and performances in Connecticut and New Jersey.33
Unfortunately, his successes outside of jazz made for a "cool" reception among jazz circles. To many, jazz was an art form that could only be accomplished through poverty and self-destruction. Jazz artists who found success outside the business were often ostracized by members of the jazz community. Don Elliott:
I'll bet it took me almost eight years to break myself of who I am on Madison Avenue as a producer and have my very dear friends accept me or just recognize me again as a member of the family, of the jazz family. It's strange, 'cause I've been out of It since 1958.34
This situation was further aggravated by Don's inability to utilize jazz players in most of his commercials. Don seldom had an opportunity to choose who performed his music for advertisers. Whenever he did, the musicians he selected had to be well-trained and disciplined musicians who were able to read and perform immediately. Unfortunately, not all of Don's friends from the jazz world were able to meet the strict performance requirements of the advertising business.35
Cancer
Don's slow, but methodical comeback would soon be interrupted, however. Following a trip to Africa to receive another music award, Don noticed that he had a slight fever that he couldn't seem to shake. After a couple of months, he decided to seek the advice of a physician.
In February 1984, Don was admitted to Sloan Kettering Hospital in Manhattan. There was considerable difficulty in obtaining a private room for Don. Quincy Jones was contacted for assistance. Quincy, in turn, called Frank Sinatra. Sinatra was a longtime supporter of Sloan Kettering and notified the hospital immediately. Don was soon resting comfortably in his private room.36
However, no private room could comfort Don for the news he was about to learn. His fever was a symptom of colon cancer. Befitting his personality, Don expressed more concern for his mother learning of his plight than he was of learning it himself. As a result, Nettie wasn't told of her son's illness, or the fact that he didn't have long to live.37
As the illness and accompanying surgery took its toll during the following six months, Don lost his abilities to perform on the many instruments he spent a lifetime mastering. Before long, Don's vibes became the last tool through which he could communicate musically.
Don's last musical performances occurred in the middle of June 1984 at Freddy's, a small club in New York City. Don's quartet provided concerts during a weekend stint at the club. Don performed with his quartet, but drummer Grady Tate had to settle for vocals during Don's last performances-Freddy's didn't allow drums.38
News of Don's condition was well-known and many fans and friends were in attendance of the sessions at Freddy's. Vibraphonist Lionel Hampton attended one of Don's last sets. Don encouraged Lionel to join him on vibes and Lionel happily complied.
Joan Wiles was in attendance of the last session and remembers a conversation with Don following the performance:
After he finished, he said to me, "I don't know where I'm going." I believe he was telling me that he had an inkling he was to die soon. All I could think of saying to him was, "None of us knows where we're going, but I think where you've been is important now, and you've been to the heights."39
During the weeks following the performance, Don's hope was revived. He had been encouraged by some surprising successes in fighting cancer at the Hans Neiper Institute. Don and Doris flew to Germany on June 23.40 Herb Helfman:
Several weeks before he died, he went to Germany to the Hans Neiper Institute. That's where several celebrities had gone to try to beat cancer. They went there and Doris slept on a cot in his room. After several days, they saw that he wasn't going to get any better. He didn't want to die in Germany, he wanted to go home. Doris told Dr. Neiper that they were going home. The doctor was not willing to let Don leave. Doris told him "You know, I'm writing a book on you and I don't think your fans would want to know that a patient would be kept prisoner here." The doctor told her that if she could get her husband on his feet and out of the hospital, It would be OK with him. She did.
They got on a plane and we waited for them to arrive In New York City, but there was a terrible storm. The plane landed in Philadelphia, Instead. Doris got the people from the airlines to put Don in an ambulance In Philadelphia. They were so nice, they drove him all the way from Philadelphia to Weston, and carried him upstairs through that winding stairway and put him In his bed.41
Dan's brother Herb and his wife, Beverly, along with Dan's mother made their last visit on July 4. Herb Helfman:
When we saw him last was on July 4. He was happy Just to be In his bed. He was surrounded by Doris and his two kids. That's how I last saw him.
My mom, I remember, never liked to kiss family on the lips. We were brought up to kiss on the cheeks. But that time, I remember, my mom went back and kissed her son a full kiss. That was the last tlme.42
One day later, Don was gone.
The Legacy
Today, Doris still lives in the house in Weston. She started a business that helps to place nannies with families all over the east coast. This business, appropriately called HELP!, continues to be in great demand. On any given week, several "nannies-to-be" are present at the Elliott home.
In 1986, Dean and Doriane assumed operation of Don Elliott Productions and continued the tradition begun by their father. Dean, who had already received credits on several movie soundtracks, continued to produce his own commercials and co-produce local music groups. He is also a DJ on 95.9 FOX FM.
Doriane became the business manager for the production company, as well as the manager of Reel Hits, a talent development company started by Dean and Doriane to expand the operations of the studio.
Following her studies at the Mannes School of Music at New York University, as well as studies at Parsons School of Music, Doriane studied with her idol, Batsheva Rubenstein, in Isreal. Today she's a vocalist with the J&B Band and continues her family tradition of composition and performance.
Don Elliott lived 57 years. During that time he managed to touch a multitude of people's hearts. His career encompassed jazz, commercial music, studio recording, movies and television. It would be very safe to say that he is still missed in each of these areas of artistic expression.
Don Elliott was a natural-born musician who worked as hard as anyone in the business. His talent was only surpassed by his kindness and compassion. A true testament to his abilities is the relative ease with which he transitioned from Birdland to Broadway; from Broadway to Madison Avenue; and from Madison Avenue back to the spotlight.
If there had been a hunger for the spotlight, Don Elliott would be a household name to this day. Instead, he was willing to be part of the background of so many careers and idioms. However, it's still hard not to turn on any television or walk into any movie theater without seeing Dan's creativity alive and well in the works of those whose lives he affected in some positive way.
Special Thanks to:
Doris Elliott and Herb Helfman for your time, information, photographs, and memories; Steve Allen, Terry Gibbs, and Burgess Meredith for taking time out for a small, unknown publication; Joe Urso, Patti Piontkowski and Susan Kornutick, for providing Information and memories; Jim Klapp, Howie Mann, Warren Vache, Sr., and Richard Reitman for help with names, places, and dates. Lastly, thanks to Don Elliott for offering his talents to the Horn of Scorn. You reintroduced the mellophone to jazz and the general public. You will forever be the best musician to ever touch the Instrument that has so deeply affected many of our lives.
End Notes
1 "Elliott, Don," The New Grove Dictionary of Jazz, 1988 ed. (London: Macmillan Press Limited, 1988)
2 Herb Helfman, letter to author, 24 May 1993.
3 Judd Ed Woldin, letter to Herb Helfman, undated.
4 Herb Helfman, letter to author, 24 May 1993.
5 Judd Ed Woldin, letter to Herb Helfman, undated.
6 Herb Helfman, personal interview, 22 Sept 1993.
7 Herb Helfman, personal interview, 22 Sept 1993.
8 John S, Wilson, "From Mellophone to Flugabone," New York Times 31 Aug 1980.
9 Andree Hickok, "Musician Notes Money's Fine But an Audience is Better Yet," Bridgeport Sunday Post, 26 May 1974: F-3.
10 Herb Helfman, personal interview, 22 Sept 1993.
11 John S, Wilson, "From Mellophone to Flugabone," New York Times 31 Aug 1980.
12 John S, Wilson, "From Mellophone to Flugabone," New York Times 31 Aug 1980.
13 John S, Wilson, "From Mellophone to Flugabone," New York Times 31 Aug 1980.
14 Ed Wallace, "Don Elliott Moves Horn Forward," New York World-Telegram and Sun, 15 March 1960.
15 John S, Wilson, "From Mellophone to Flugabone," New York Times 31 Aug 1980.
16 Terry Gibbs, personal interview, 10 Sept 1993.
17 Steve Allen, letter to author, 9 July 1993.
18 "Don Elliott: Horns of Plenty," Downbeat, 16 October 1958: 15.
19 John S. Wilson, "Broadway Newcomer," New York Times. 24 April 1960: X 11.
20 Burgess Meredith, personal interview, 5 October 1993.
21 Burgess Meredith, personal interview, 5 October 1993.
22 Lisa Faye Kaplan, "From Greenwich Village to Madison Ave.," Fairpress "Do It," 5 April 1978: C3.
23 Shelley list, "Jazzman Don Elliott: Music's still his 'Thing'." The Westport News, 14 October 1970: 14.
24 Robin Topping, "Behind the marketing, a man with a 'message,'" The Advocate, 14 Sept 1981: 04.
25 Andree Hickok, "'Low Key' Weston Jazz Musician...," Bridgeport Sunday Post, I March 1970.
26 Andree Hickok, "'Low Key' Weston Jazz Musician...," Bridgeport Sunday Post, I March 1970.
27 Andree Hickok, "Musician Notes Money's Fine But an Audience is Better Yet," Bridgeport Sunday Post, 26 May 1974: F-3.
28 Doris Elliott, personal interview, 28 Oct 1993.
29 Andree Hickok, "'Low Key' Weston Jazz Musician...," Bridgeport Sunday Post, I March 1970.
30 Andree Hickok, "Musician Notes Money's Fine But an Audience is Better Yet," Bridgeport Sunday Post, 26 May 1974: F-3.
31 Shelley list, "Jazzman Don Elliott: Music's still his 'Thing'." The Westport News, 14 October 1970: 14.
32 John S, Wilson, "From Mellophone to Flugabone," New York Times 31 Aug 1980.
33 John S, Wilson, "From Mellophone to Flugabone," New York Times 31 Aug 1980.
34 Peter S. Hawes, "Mellophonist Don Elliott 16 Returning to Jazz," The Hour Suburban. 18 April 1984: 15.
35 Doris Elliott, personal interview, 28 Oct 1993.
36 Herb Helfman, personal interview, 22 Sept 1993.
37 Herb Helfman, personal interview, 22 Sept 1993.
38 Herb Helfman, personal interview, 22 Sept 1993.
39 Joan Wile, letter 10 Sophie, 12 July 1984.
40 Carole Yudain, "A friend recalls Don Elliott's last gig," Fairpress Norwalk CT, 11 July 1984: A6.
41 Herb Helfman, personal interview, 22 Sept 1993.
42 Herb Helfman, personal interview, 22 Sept 1993.