Yamaha YMP-203
Marching Mellophone

Yamaha YMP-203

Rating:
Technical Data
This technical data was obtained from the manufacturer's website (here).
This mellophone offers a newly designed bell flare that produces the warm, round tone preferred by such groups as the 8-time DCI World Champion Cadets Drum & Bugle Corps.
Newly designed bell flare
Produces a warm, round tone with plenty of presence and the ability to hold together at all volumes.
2nd water key
Easy water drainage.
1st valve tuning slide thumbhook
Greatly aids control of intonation.
Nickel silver inner and outer slides
The use of nickel silver inner and outer slides ensures better fit and less chance of corrosion because nickel-silver is harder and more durable than brass.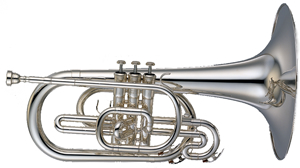 Honed valves
The precise fit between valve casings and pistons after honing means no air leakage.
Pressure-formed tubing
Perfectly rounded tubing results in less turbulence and a smoother air flow, thus allowing for an excellent scale and reduced resistance.
Laser-fused pluzuma-welded slides
A high-energy laser fuses the brass together for a virtually seamless bell which allows continuous, even vibrations.
Hand-lapped valves and slides
Hand-lapping valves and slides ensures an absolutely perfect fit and seal between the valve pistons and casing or slide parts. Such a perfect fit helps to achieve smooth air flow and smooth action and improve the response and intonation of the instrument.
Well balanced
All Yamaha marching instruments are well-balanced so they are easy to hold while marching.
Heavy bracing
All Yamaha marching instruments have heavy bracing throughout so they are more durable at vulnerable points and can withstand marching band.
Level Marching: Mellophone

Key: F

Bore: 0.462"

Bell Diameter: 10"

Leadpipe Material: Gold brass

Body / Bell Material: Yellow brass

Finish: Clear epoxy lacquer; Silver (YMP-203MS)

Mouthpiece: MP-14F4

Pistons / Valves: (3) Nickel-plated, nickel alloy

Case: MPC-203M

Mouthpiece adapter included
Opinions
The most significant difference between the YMP 203 and its predecessor, the YMP 201 is the change in the bell flare. The revised flare makes a substantial difference in how the instrument projects and the tone colors.
YMP 201 Flare
YMP 203 Flare

The biggest change in the 203 is a dramatic revision of the flare.
The resulting instrument does share similar acoustical characteristics of mellophone bugles while at the same time maintaining the playing characteristics of an instrument pitched in F.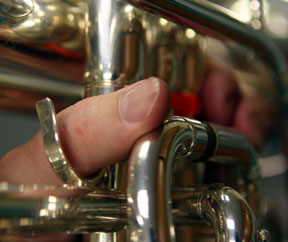 The thumb saddle incorporated into the first valve slide is a much welcomed update for this model horn and an indis-pensable tool for players.
Intonation is above average for this instrument, but the B-flat pitch (top line F on the instrument) has a very narrow slot. This is particularly troublesome considering the the amount of literature that will be played on this instrument that will utilize this pitch.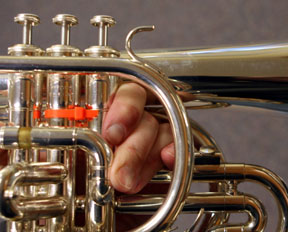 One drawback to this design is the cramped quarters for the left hand. This is not an issue for players with small paws.
The pistons are tight and fast. So tight, in fact, that they may present issues under hard service conditions typical of outdoor marching ensembles. Care will need to be taken to ensure the valves are lubricated often and kept free of dirt and grime.
The finish and construction of this instrument is superb. Multiple instruments shared very similar playing characteristics, suggesting consistency in the execution of mass manufacture.
-Scooter Pirtle (email)