Dynasty M540
Technical Data
The new F Mellophone includes a "Micro-Tune" trigger and slide mechanism. This instrument plays well, and includes incomparable tuning capabilities. Hand lapped nickel plated valves for durability, and bow guards and extra heavy duty bracing.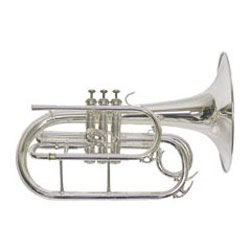 All Note Tuning
A special trigger is included that adjusts the tuning slide to pull any played note right into tune.
Best Durability
All Dynasty Marching Brass have a special bell bow guard. This extra support defends against dents in the horn's most exposed area of tubing. Not only are the braces on the horn heavy duty, there are additional braces placed to assure durability and stability.
| | |
| --- | --- |
| Valves | Nickel Plated, Hand Lapped |
| Bell | 9 3/4" |
| Bore | .468 |
| Weight | 3 lb. 11 oz. |
| Length | 17" |
| Mouthpiece | 6V with trumpet shank, or use adapter for French Horn mouthpiece |
| Durability | Bow Guard and additional Heavy Duty braces |
| Case | Wood frame with four security latches |
Opinions
| | |
| --- | --- |
| | |
| | Rod Gornto play testing his M540 at a Star United rehearsal in Carmel, Indiana in June 2006. |
The scale isn't as even as I'd like. The intervals between mid-space C ascending to G are especially compressed and difficult to tune. Basically, I have to keep the first valve slide almost all the way in, from C on up, to compensate for intonation and not just for the 4th-line D. That gets a little annoying during long practice sessions. I don't know if it's just me but the upper register above high A seems not to project all that clearly. The bell flare is smaller in circumference than on any other mellophones I have tested. I think that might be a contributing factor in the lack of projection in the higher register.
There are no sympathetic vibration issues to speak of (as encountered previously on the Yamaha 201 where the bell vibrated at the exact same frequency as the top line F). The lower register on the M540 plays very clearly. With the Curry TF mouthpiece I was using, attacks are crisp and moving around partials is pretty smooth.
-Rod Gornto (email)