UMI 1736
Technical Data
For all around player, UMI has developed its state-of-the-art UMI mouthpiece.

A slight amount of mass around the cup results in a mouthpiece with exceptional performance characteristics.

This additional mass keeps tonal vibrations from escaping through the wall of the cup, creating a mouthpiece that remains centered and focused, without the tone becoming too dark.

The rim, cup, throat and backbore are all of traditional sizes, making it easy to select the mouthpiece size perfect for any musical style.

Because UMI uses the highest grade materials and computer-controlled technology, each mouthpiece is consistently reliable, regardless of size or configuration.
Opinions
This revised version of the famed Mello 6 (generation I) began shipping as early as 2000. Most purchasers were initially perplexed when opening up the box containing their new mouthpiece, expecting the traditional profile of the original Mello 6 versus the slightly heavier reshaped second generation Mello 6.
The confusion was exacerbated to some degree by instrument retailer Woodwind and Brasswind simultaneously shipping UMI 1216 Mello 6 and UMI 1736 Mello 6 mouthpieces to customers who made purchases without the benefit of a photo reference on their website. Who knew a "Mello 6" wasn't necessarily a "Mello 6?"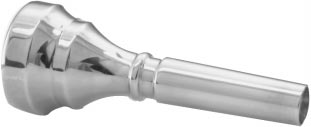 The UMI 1736 is a revised version of the famed Mello 6.
While the outside profile of the 1736 incorporates the addition of more mass around the cup and the rim area, the innards remain essentially similar if not identical. Some users have noticed a slightly different "feel" to the rim. The manufacturer's technical notes are limited to "medium" cup depth and a medium-wide rim shape.
The additional mass on this mouthpiece can be a mixed blessing to some. While it helps the player slot pitches more effectively and will concentrate the timbre, it will take a short adjustment period for the player to become completely acclimated to this mouthpiece. Some players (this reviewer included) have noticed a very, very slight change in the articulation response of this mouthpiece, almost as if it doesn't quite speak as freely as its 1216 predecessor.
Like the 1216, the 1736 is a small mouthpiece. Many purists will contend both mouthpiece designs are way too small in cup width for an instrument pitched in the key of F. While that argument would be best explored elsewhere, it does make one wonder why this particular size ever became the standard.
Unlike the 1216, the 1736 has serious competition from manufacturers who have devised their own incarnations of the Mello 6 including Dynasty, Kanstul, and Yamaha. Custom mouthpiece manufacturers such as Curry and Warburton have also produced innovative designs that have been used with great success by competitive marching mid-voice sections.
While no data is available to quantify the popularity of the 1736, it seems very likely this mouthpiece will adorn mid-voice metal for quite some time.
-Scooter Pirtle (email)
Where to Buy
The Woodwind and the Brasswind (click here).