Holton M602
Technical Data
The M602 marching mellophonium has a full, rich tone with exceptional projection. Its horizontal slides allow a 1st slide U-pull and a 3rd slide adjustable pull ring for tuning low C# and D. Designed with the marching band in mind, it's also a great horn for playing jazz.
The M602 responds easily and quickly with not too much resistance. It offers unique balance and comfort for players who typically hold the instrument for long periods.
Genuine Holton mouthpiece and wood-shell case included.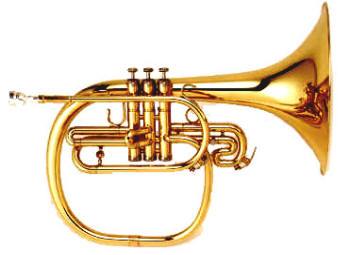 Key: F
Bore: 11.89mm (.468")
Bell: 298.45mm (11.75")
Action: Top-spring loaded
Piston: 3, Monel
Waterkey: 1
Slide material: Brass
Mouthpiece: HML337-6 (Cornet shank)
Options: Model M601 is available with an E-flat tuning slide as model M6000-4-1; a French horn mouthpiece adaptor is available as accessory item M1-27

Opinions
A specimen of this horn was purchased on eBay for trial purposes. After acquiring a custom cornet shank mouthpiece from Warburton (immediately prior to their devastating factory fire), a somewhat whimsical test of the Holton horn was undertaken.
Overall, the horn was found to be a pleasant surprise. The intonation was not bad and the middle range of the horn responded well. Typically, there are a few notes of major concern with mellophones (see Yamaha review), but those concerns do not appear to exist with this instrument.
The unique shape of the instrument would make it somewhat undesirable for field usage, particularly at "carry" position when the flare tubing loop keeps the valve cluster an uncomfortable distance away from the chest. The horn's design also incorporates thin-walled brass that will be very fragile and easily damaged. The loose valves (normally a detriment) may actually be a benefit for an instrument exposed to temperature extremes and grime associated with field rehearsals and performances. Even poorly lubricated valves will move quick and freely.
The horn's playing characteristics closely resemble those of the King 1120, without some of the clarity issues encountered around the second space A. While it doesn't possess the richness in sound quality available in the Yamaha, it is a forgiving instrument that would be well-suited for younger players in a sectional setting.
-Scooter Pirtle